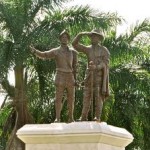 Founded by Francisco de Montejo in 1542 on the site of the Mayan city, T'ho, Merida is known throughout the world as the "White City" owing to its shining white buildings. Built in French baroque style, Merida, the famed world's henequen capital, represents the finest and oldest examples of colonial architecture in Mexico. It enjoys the distinction of being the safest city in the country. Its people are friendly, its mood tranquil. For these and many other good reasons, it has been selected as the Cultural Capital of the Americas for 2000
TRAVEL
Merida has an international airport. Use air miles. Our choice of holiday travel offers all a great vacation should. Comfortable affordable lodging in a historical setting minutes from the ocean. Rental cars and taxis are readily available for sightseeing, but, within the city itself, only two good feet are necessary.
SIGHTSEEING
The town was apparently laid out with tourists in mind. All its treasures are within walking distance of the city center. Walking alone here is 'no problema' for non-Spanish-speaking visitors. The residents are all gracious to their vistors. And there are tourist police seemingly everywhere who politely assist those in need. Churches, museums, and plazas abound. Shopping is best near the city center where the local residents do their own shopping. Everything from food to souvenirs can be found at low prices. Merida's English Library conducts inexpensive tours of private homes for those interested during high season. Every Saturday night, Noche Mexicana, a free fiesta of local music and art, is held at the foot of Montejo Boulevard.
For the golfer, the La Ceiba course is great. For children, there is a zoo. Horse-drawn carriages on Montejo Boulevard allow leisurely sightseeing along a wide boulevard that rivals the Champs de Elysee.