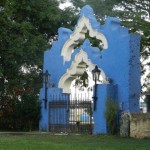 This  vintage boutique hacienda hotel is located just off the highway from Merida to Cancun. Just one kilometer from the Merida city limits, guests can enjoy the peacefulness of a small village along with conveniences of city bus and taxi service right at the hacienda gates. Travelers with cars can save time and the frustration of city driving, having easy access to roads leading to all the major sights. Sightseeing and cultural tours are available from the hacienda.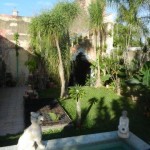 The property has large green spaces, tranquil gardens,  pool, indoor and outdoor lounges and comfortable accommodations. On a stroll though the gardens you can stop and chat with parrots or enjoy the three tropical outside aquariums . Tropical plants and fruit trees align your path and regional birds fill the air with their daily songs.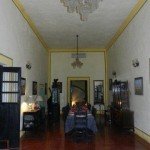 For the business traveler or the person who likes to stay in touch, wireless broadband Internet service available. A computer, desk phone, video and book library is also available for guest use. The hacienda has air-conditioned lounges for dining, socializing and small conferences. The hacienda has hosted weddings, baptisms, birthdays, and most recently a Mexican conference on global warming. Meal and beverage services are available at the hacienda.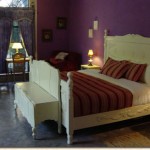 This boutique hacienda hotel consists of three suites, differing in style to suit every traveler's need. Hacienda suites are quietly cooled with mini-split air-conditioners and have en-suite baths with walk-in showers. Hacienda suites are furnished with Posturepedic® king or queen sized beds and good quality linens for a relaxing night's sleep. Hacienda suites are also furnished with tables, comfortable chairs and TVs with VCR or DVD players. Select collections of hacienda suites also offer Jacuzzi or large spa tubs, with semiprivate pool and palapa area.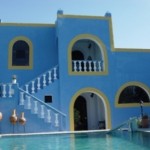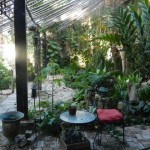 Hacienda San Pedro Nohpat guests can start their day with a well balanced American or Mexican style breakfast included with their rooms. Guests can even try local Mayan style breakfasts like eggs with chaya, a native plant grown at the hacienda. A light mid-day lunch or traveler's lunch is available to keep you going through the day. Dine at night with hacienda style International cuisine or Yucatecan favorites. Should you have any special meal requirements, the hacienda staff will do their best to suit your needs.
Hacienda San Pedro owners and staff provide guests with airport pickup and delivery service, travel assistance, tour bookings, rental car assistance, laundry and child care services. Relax and feel at home while experiencing hacienda living at Hotel Hacienda San Pedro Nohpat, daily tipping is not required.