It's all about our incredible ambiance …
Standing within the Hacienda's grand colonial rooms, or sitting outside on the traditional arched veranda, it is easy to imagine what life was like in the days of horse drawn carriages and gas lights. Now, imagine bringing this amazing atmosphere to the most important day of your life – your wedding day!
Weddings are our specialty. Our outdoor facilities accommodate up to 250 people. The gorgeous Moorish-style arched gate and traditional hacienda covered portico will be the backdrop to your fairy-tale wedding and photographs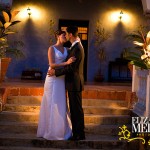 We customize all of our wedding packages to include exactly what you want. If you want real Yucatecan flavour, we can offer a full local menu prepared by some of the finest local chefs – even the tortillas can be hand-made on site. Now, imagine enjoying your favourite  meal while being entertained by a 10-piece Mexican mariachi band. Want something more international? How about listening to a live string quartet while enjoying your multi-course roast beef, steak or chicken cordon bleu meal by candle light? Tell us what you want, and we will make it happen!
Call us or email us today,  or better yet, come and visit the hacienda and let us help you plan your perfect wedding.